I am making this page in behalf of Bad Intensions. A memphis based band that combines blues, rock, metal and alternative......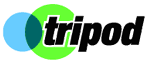 This is the Tripod logo.
My name is Christy, manager of Bad Intensions. This page in the near future will have bio on the band, music, and much more. I will be updating this page frequently so please be patient. If you have any comments and or questions, feel free to email me or leave a mark in my guestbook.....Thanks Christy.
[an error occurred while processing this directive]
Tripod MP3 Search
Artist or Song Name: